Clear Title of Arizona is pleased to provide its clients with the Clear Connections Monthly Market Update. This report will provide you with the latest real estate trends.
Our business is built around the concept of educating and providing the personal service that Real Estate Agents and Lenders have come to depend upon. We want to provide accurate data to our clients, associates and friends. It is intended to keep you informed on critical market trends that affect our businesses.
SINGLE FAMILY HOME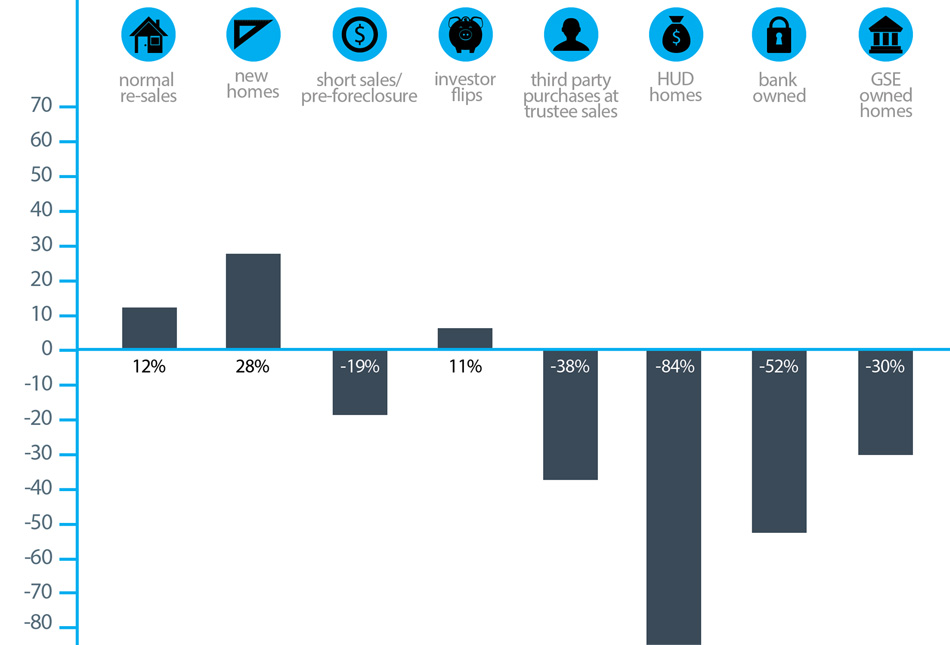 In October 2016, single family home sales increased year over year in the three largest sectors, with new homes gaining market share:
New Homes (up 28%)
Normal re-sales (up 12%)
Investor flips (up 11%)
Because of lower distress levels, single family home sales decreased year over year in the remaining five sectors:
Third party purchases at trustee sales (down 38%)
Bank owned homes (down 52%)
GSE – Fannie Mae, Freddie Mac, etc. (down 30%)
HUD sales (down 84%)
Short sales / pre-foreclosures (down 19%)
The change in total dollars spent on homes was more favorable than the change in the unit count.
Total dollars spent on single family homes rose by 20% over October 2015.
Total dollars spent on townhouses & condos rose by 15% over October 2015.
During October, average single family pricing moved noticeably higher, reading $298,528, up from $293,912 last month and up from $273,267 in October 2015. Average new single family home prices were 5.7% higher than last year while the average new single family home size has declined by 1.8% over the past 12 months.
MEDIAN SALES PRICE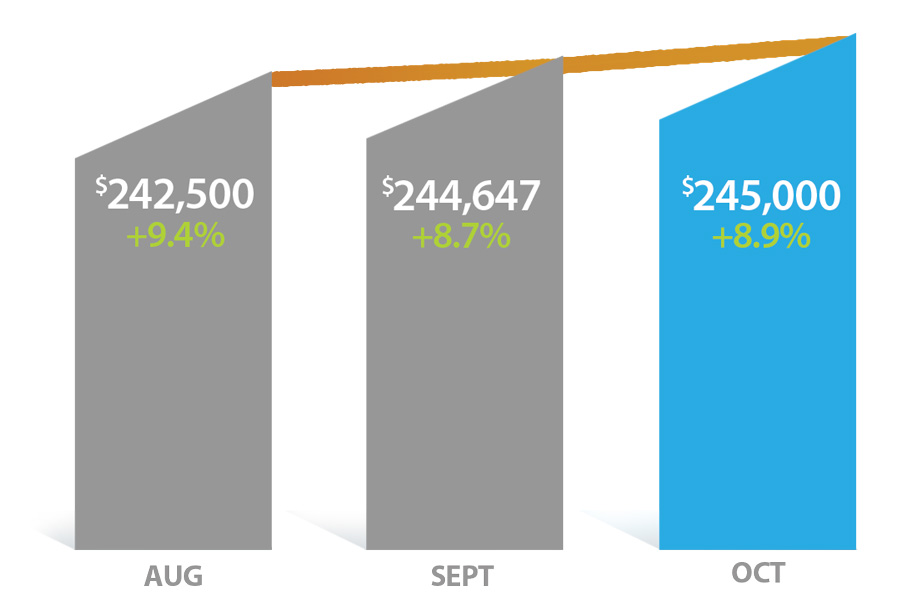 The median sales price rose 8.9% from $225,000 in October 2015 to $245,000 in October 2016.
NEW HOME SALES
October was yet another very strong month for new home closings. Newly-built single family
homes saw 1,256 closings in October, up 28% from 981 in October 2015. The total dollar value of single family new homes closed in October was up 35% from $357 million in 2015 to $483 million in 2016.
The average sq. ft. of a new single family home in October was 2,480, down 1.8% from 2,526 in October 2015. More builders are starting to offer options at entry pricing levels, although many of these are a long way from the center of the valley. The average sq. ft. of a non-distressed resale was 2,010, so new single family homes are 23% larger on average than the existing homes that sold. This percentage has fallen from 27% this time last year.
The market share (in dollars) for new single family homes has climbed from 18.3% in October 2015 to 20.6% in October 2016.
DEMAND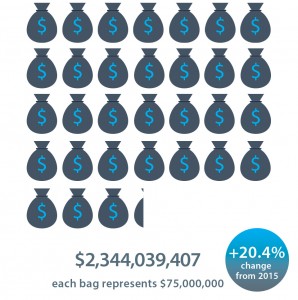 Total price for single family homes sold in October.
Total single family, townhouse & condo sales were up 10% in October from a year earlier. Both single family sales and townhouse / condo sales were up 10% compared to October 2015. However October was a weak month last year because of the introduction of new closing regulations.
Single family homes priced over $500,000 took 24% dollar market share, up from 22% last year. There was a 31% increase in dollar volume but the ranges over $2 million increased by 70%, while the amount spent on homes between $500,000 and $1 million was up 20% compared with October 2015. Demand has improved relative to October 2015 in many luxury areas. Entry level single family homes under $200,000 lost market share from 22% to 16%, mostly due to very low supply. The mid range between $200,000 and $500,000 has robust
demand and adequate supply and grew market share from 56% to 60%.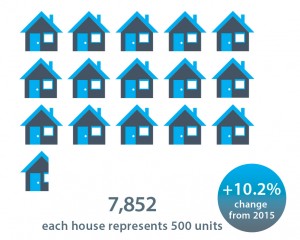 Numbers reflect single family homes only.
AVERAGE PRICE PER SQUARE FOOT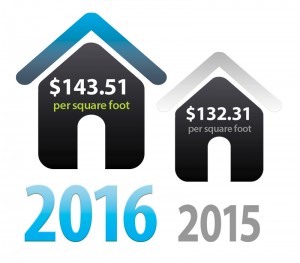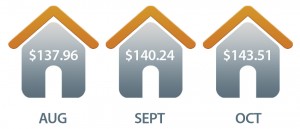 Average price per square foot for single family homes gained 8.5% from $132.31 in October
2015 to $143.51 in October 2016.
SUPPLY
The number of active single family listings without an existing contract was 16,206 for the Greater Phoenix area as of November 1, 2016. This is up 4.8% since October 1. The inventory of single family homes under $150,000 stands at 44 days, up from 37 a year ago. Overall we have seen 4.4% more new listings created in 2016 than at the same stage in 2015. We expect active listing counts to fall during December and then rise sharply again during the first quarter of 2017. New supply has been strong at the upper price points but remains inadequate below $200,000. In the mid range between $200,000 and $500,000 we are seeing plenty of supply but current demand is more than strong enough to cope with the new listings. Supply has been stronger in the West Valley recently and weaker in the Southeast.
CHANGES IN TRANSACTION MIX
We saw an increase in non-distressed transactions (up 12%), with investor flips up 11%. New home sales were up sharply by 28% but distressed transactions fell 37%. We saw a 38% fall in third party purchases at trustee sales and new notices of foreclosure remain at very low levels. Reversions to lenders decreased by 26%.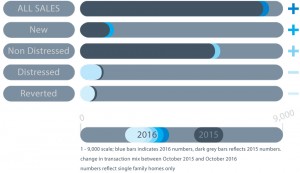 The entry level market has been very short of supply all year, which has driven strong appreciation which looks likely to continue unabated for a while yet. However there are signs of growing supply in the West Valley, especially Surprise. There is adequate supply in the mid range and growth in sales has been strongest here. This suits the new home builders who are achieving remarkable growth in closed sales year over year. This too seems likely to continue, along with mild to moderate appreciation. The bulk of the market strongly favors sellers over buyers. This has been less true of the luxury market although October was a much better month for luxury homes than October 2015. There are several areas where the luxury market remains strong, for example Arcadia, Old Town Scottsdale and the DC Ranch area. There are also several upscale condo developments in fashionable locations which are reported to be seeing strong buyer interest and some of these (e.g. Envy) have recorded closings in the last few months. This is likely to push the average price per sq. ft. higher for condos and townhomes in 2017. The current outlook calls for ongoing challenges for luxury home sellers in the more remote areas since we expect a significant number of new listings will arrive over the next 6 months. We have a large wave of baby boomers reaching retirement age and many are looking to downsize to more convenient and manageable "lock and leave" homes, closer to amenities. This could lead to something of a glut of big detached homes on large lots and a corresponding shortage of smaller, often attached, upscale homes with the contemporary style and features that these buyers are currently looking for.